Reflections on CARE TALKS, New York City
September, 30, 2017
Greg Williams at CARE TALKS (14 minutes)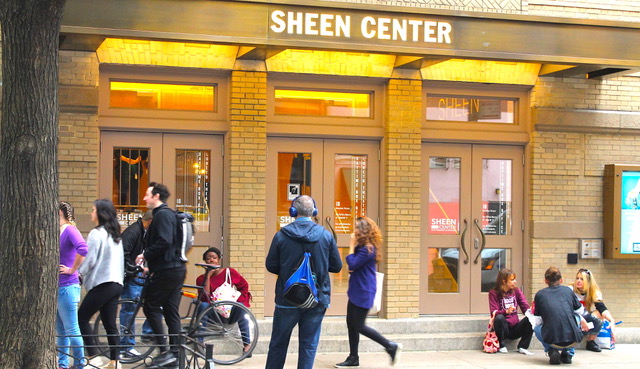 On a beautiful early fall evening, a nip in the New York Greenwich Village air, I anxiously arrived at the Sheen Center to hear 12 well known advocates for recovery address over 250 concerned and caring civilians attending "Care Talks," the inaugural event hosted by the McShin Foundation of Richmond, Virginia.
The Charlie Sheen Center? No, the Bishop Fulton J. Sheen Center. Coincidentally they both had fabulous TV careers. On this particular evening, the event's moderator, John Shinholser, co-founder of the McShin Foundation, delighted in introducing the evening's diverse speakers. His delight was especially apparent when he indroduced the first speaker, his wife, Carol McDaid, who is the other co-founder of the McShin Foundation.  Carol has been a long time advocate and was a strategist at Parity NOW Coalition, which helped pass the 2008 Mental Health Parity legislation that required insurers to treat all medical conditions – mental and physical, including addiction, with equality.
"I'm not here to demonize Big Pharma," she insisted "but I am active in Washington D.C. asking pharmaceutical companies to make financial amends for their part in the opioid addiction intensification in America."
She would like pharmaceutical companies to finance peer recovery support services, sober living homes, and programs that teach basic fundamental life skills such as job seeking, resume preparation,  getting a drivers license. – you know, things usually taught by parents and school teachers.
A dynamic and engaging speaker, Carol set the tone for an evening of articulate advocates who spoke passionately and compassionately about the opioid overdose crisis in the USA.  What once was a problem of the poor and marginalized is now the bane of the affluent and overserved.
Each well-chosen and qualified presenter spoke primarily regarding symptom-specific solutions. Not much was said about underlying issues and causes.  Why are young people not afraid to die for a few hours of bliss?  Why is there a euphoria shortage in America? In the new brilliant documentary, Dying in Vein: The Opiate Generation, one of the subjects, Maddy says, "Every time I shoot up, I feel like I'm falling in love for the first time." Should there be an antidote for that? Of course, if she never did the first shot, she might not feel that way.
Recovery dignitaries such as Anita Baglaneas Devlin, author of  S.O.B.E.R. were in the audience, along with Barbara Straus Lodge from Santa Monica, founder of Truth Talks. Later she commented, "the main element I am left with is that addiction is a disease and those who suffer from it should be treated with the same compassion and love as those with other diseases. People are dying. Falling like dominos and still, still, those remaining are neither being seen nor heard."
Judge Jodi Debbrecht Switalski told us that one in three Americans surveyed blamed doctors for the current opioid overuse problem.  A majority of people that become addicted arise from sports injuries and wisdom teeth extractions after which it is not unusual to receive a refillable prescription for thirty Vicodin. Many people claim their physicians don't advise them that Vicodin may be habit forming. Wouldn't it be wise to inform patients of all risks when prescribing pain killers? Judge Jodi said that doctors should 1.Inform 2. Monitor and 3. Document the process of making patients fully aware of both the benefits and risks of any medical treatment.
Another concern raised was about doctors who follow patients' orders so as to score higher marks on the patient satisfaction questionnaire.  The Judge captivated the audience with excellent delivery and worked the stage like a judicial Mick Jagger.   Although she spoke as if addressing the AMA, it didn't seem like there was a doctor in the house. Pity.
Greg Williams, director of the ground-breaking film, The Anonymous People and co-director of Generation Found, told a story of attending a social gathering where most people were imbibing one form of alcohol or another. Greg by choice abstains.  He was noticed by another gentleman in attendance also refraining from alcohol, and the two struck up a conversation. Greg's new acquaintance revealed he had been addicted to heroin, but has now been heroin free for many years. The man seemed healthy and happy with his life, but Greg condemned him as weak, ashamed or "in denial" because didn't describe himself as being, "In Recovery."
If someone is fortunate to have overcome addiction, achieved remission from chronic medical condition of many years, and lives a rich and rewarding life, how dare we withhold praise or heartfelt congratulations? Why denigrate someone because they don't define themselves by a particular phrase or announce to the world that they are "In Recovery?"
Recovery is an individual process, a way of life, an attitude, and a way of approaching life's challenges.   Recovery is a verb not a noun.  I, for one, did not quit using drugs and alcohol to go from being labeled as "in addiction" to being labeled "in recovery."  I didn't want to go from one box, into another. Isn't no box is the goal after all? Happy, joyous and free sounds more like it. Being "In Recovery" sounds like being caught in a trap set by forces who condemn AA and its policy of anonymity and spirituality.  They did manage to 'attract' over 60,000 members to the 80th Anniversary celebration in Atlanta, Georgia summer heat a couple years ago. Many men and woman use the tools of recovery as prescribed by Bill Wilson and Dr. Bob Smith, to achieve and maintain sobriety. Sometimes their method is condensed into three practices (certainly never prescribed by the medical industrial complex) 1. Trust God, 2. Clean House, 3. Help Others.  I marvel at the millions who walk among us, being their 'better yet to be.'
I quit drugs so I wouldn't die, and to be free. Labeling oneself as being "in" recovery infers the possibility looms precipitously of being, "out" of recovery.
Does saying you are in recovery make you feel superior to your fellows, or more vulnerable?
Many professionals note that a contributing factor to addiction is a lack of connection. Being "in recovery" seems to perpetuate detachment from those you perceive as being normies or active users.  In a world that cries out for unity we still find ways of separation and exclusivity.
[/cmsmasters_text][/cmsmasters_column][cmsmasters_column data_width="1/2″][cmsmasters_text shortcode_id="02uzdzl6nb" animation_delay="0″]
Have you heard this verbose suggested salutation by some advocacy organizations?  "Hi, my name is Leonard Buschel, and I'm a person in long-term recovery, and what that means is that I have not had a drug or a drink in 23 years."
Let's break it down:
"I'm a person" – so good to know that you are a person and not a giraffe.

"Long-term recovery" – What qualifies as 'long-term'? When does early recovery become long-term recovery? Is it measured in months or years? Is a person who finally puts together six months sober not allowed to introduce themselves as a person (not a goldfish) in long term recovery?

"And what that means is…" Right, because what I just said is so devoid of definition, so confusing, confounding and meaningless that I have to tell you what it means. (I know what 'not drinking and drugging anymore means.' no explanation needed)

"I have not had a drink or a drug in 23 years." I'm cooler than the rest of you and I am special and different. So there!!
Richard Beckman, from Faces and Voices of Recovery, began by saying the event felt like a "vanguard gathering."  After condemning the health care system, the insurance companies, and hospitals, he read an original poem inspired by his work with Children of Addiction that evoked a moving emotional response from the audience. It was a touch of culture especially appreciated by all the book and poetry lovers present.
Honesty Liller, one of the event's organizers, began by introducing her fifteen-year-old daughter in the audience before addressing her concern for the four hundred thousand children in the foster care system today, many of whom are there because of their parents' issues with drugs and alcohol.  Honesty, an important member of the McShin Family, devotes her dedication to Mothers in Recovery.
Laurie Dhue, an experienced and media-savvy former Fox News anchor, talked about speaking at the White House recently and her role as narrator of the new documentary film, Reversing the Stigma. It was produced by the New York State Office of Alcoholism and Substance Abuse Services.
Randy Fisher, author and representative of the Hip-Hop Summit Youth Conference, Inc. talked about his association with Power 105, I Heart radio, promoting an upcoming recovery concert at Nassau Coliseum.  Randy mentioned he felt a little as if he was speaking at an Alcoholics Anonymous meeting, and "that's okay."  Other than Randy, no one throughout the entire evening, mentioned AA.  Even those most concerned with how families deal with the impact of a family member's`addiction made no mention of Al-anon or Nar-anon.  Randy is also a writer for the website, The Source.com and a contributor to A2R, the Addicted to Recovery magazine.
Nora Milligan, also of A2R Magazine, talked about tough love and how we can do better than that, and the misdirected energy shaming parents as enablers. Nora helped pass legislation that helped New Yorkers have easier and less costly access to treatment. Nora advised us to move away from tough love to healthy love.
Ryan Hampton from Facing Addiction spoke about his admirable effort as a newly clean and sober ex-heroin addict to win a seat as a delegate to the Democratic National Convention in 2016 representing the 27th District in Pasadena. Ryan also frequently live streams on Facebook, interviewing recovering spokespersons.
Personally speaking, I think "ex-junkie" is more powerful than "a person in Recovery""
Joe Schrank was there representing High Sobriety treatment in Culver City which promotes marijuana over the powerful and sometimes harmful detox drug Suboxone.
Joe's pitch started out with three words "Rehab doesn't work."  He then proceeded to assert that "all rehabs do is put patients in the druggie buggy at night and force them to go to12 step meetings. While knowing the 12-Steps programs work through 'attraction, not coercion." And during the day, if they see a licensed therapist twice a week, they're lucky. " Joe also shared that most people go to rehab 5 to 6 times, and 28 days is never enough. To this declaration, I must take umbrage. I went to Betty Ford for 28 days, 23 years ago and have not used since. Fifteen years ago my 19 year-old son asked to go to rehab. I drove him to the Betty Ford Center and he recently celebrated over 15 years clean and sober. However, as far as I know, he's never said he was "In Recovery". The shot glass doesn't fall far from the tumbler.
The final speaker of the evening is one of the all-stars of the advocacy movement, Tom Coderre, previously the national field director for Faces and Voices of Recovery and the chief of staff at SAMHSA. Tom loudly and sweetly proclaimed  "The role of advocacy is not to be nice, but to make change." (ka-ching).
The sincerity of each speaker and participant was obvious and it was valuable to hear many divergent opinions expressed under the umbrella of being of service to "the addict who still suffers."
The evening ended with an inspired set by troubadour, Matt Butler. He was blessed by very adoring fans and a superb sound system.
Everyone who attended was given a metaphorical doggie bag, to take home these treats to nibble on later, and see what still tasted good the next day. A rousing success for all involved. I'm suddenly reminded of  the great Marshall McLuhan, who said, "Sometimes even I disagree with what I say."
I look forward to hearing about the Care Talks that took place Oct. 7th in Richmond,` and anxiously await the Los Angeles edition tentatively scheduled for April, 2018. Stay tuned. More will be revealed.